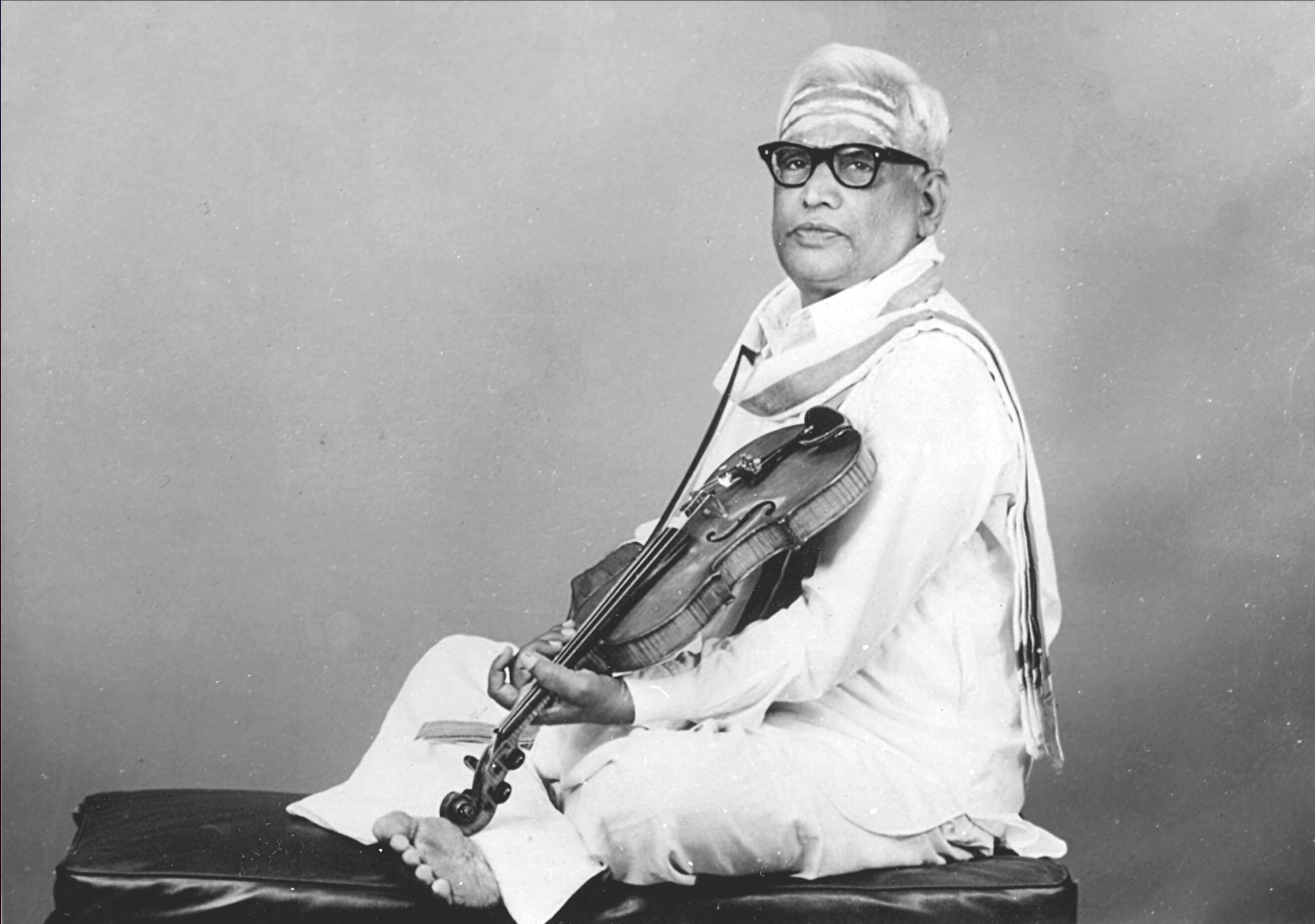 About Prof. V. Lakshminarayana
Prof. V. Lakshminarayana was a great vocalist, violinist, composer, musicologist and most importantly, a teacher.  Prof. Lakshminarayana was a visionary in the field of Indian music. He was responsible for many of the innovations which are now in common practice. At a time when the Indian violin was primarily an accompanying instrument, he elevated the position of the Indian violin to the status of a solo instrument by developing several new techniques that he taught his children and students. As a result, Indian violin was recognised, respected, and accepted as an important solo instrument at the global level. He also formed the first 'Violin Trio' with his three sons – L. Vaidyanathan, Dr. L. Subramanaiam, and L. Shankar.  
Prof. Lakshminarayana learnt under the tutelage of Gopala Bhagawathar, a disciple of Parameshwara Bharawathar, a musician in the court of the great composer Maharaja Swati Tirunal. Prof. Lakshminarayana's musical lineage can be traced to all three members of the Carnatic Music Trinity – Tyagaraja, Muthuswami Dikshitar and Shyama Shastry.
Although his music was steeped in tradition, he always had an open mind. He would organize concerts where the first half comprised Western Classical music and the second half comprised Carnatic music.
The masterful, innovative violin techniques that he created intrigued some of the greatest violinists like Lord Yehudi Menuhin, Stephane Grappelli, and many others when they heard Dr. L. Subramaniam's play. This led to many iconic artists collaborating with Dr. Subramaniam on various musical projects.
In light of his outstanding contribution as a musician, musicologist, teacher and composer, the Government of India released a commemorative stamp in his honour in 2004. The State Governments of Karnataka and Andhra Pradesh also released First Day Covers in his honour. In his hometown of Allepey, there is a road named after him: 'Violin Lakshminarayana Road.'
In addition to teaching his sons, he also taught his three daughters – Brahanayaki, Subbulakshmi, and Ganasaraswathy who also performed concerts. He taught many other musicians including music director Ilaiyaraja and Carnatic singer Sanjay Subhramanyam.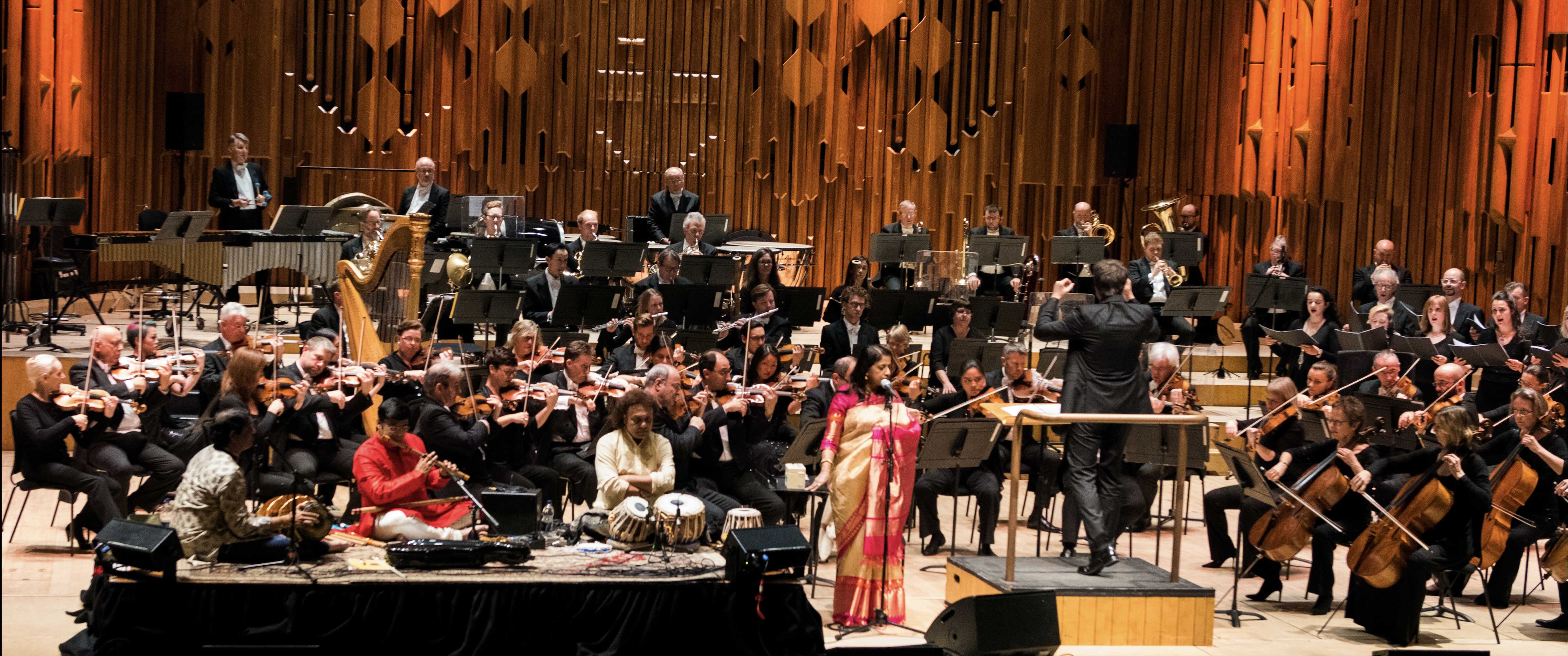 About Lakshminarayana Global Music Festival
Lakshminarayana Global Music Festival (LGMF) was established in 1992 by Dr. L. Subramaniam (and Viji Subramaniam) in the memory of his late father and guru Prof. V. Lakshminarayana. Since its inception, the LGMF has presented some of the greatest artistes from around the world including Lord Yehudi Menuhin, Smt. M. S. Subbulakshmi, Ustad Bismillah Khan, Pt. Jasraj, Al Jarreau, Stanley Clarke, George Duke, Jean-Luc Ponty, Larry Coryell, Vadim Repin, Roby Lakatos, Billy Cobham and Corky Siegel, among others. The festival has presented some of the major Western symphony orchestras at several occasions in multi-city tours. The speciality of the festival has been that it has featured collaborative works composed especially for the occasion and performed together with artists from different genres. 
In 2010, 'Melody Queen' Kavita Krishnamurti Subramaniam took over as Artistic Director of the Festival.
LGMF is the only music festival that has been able to showcase talent from around the world and provide a platform for all different styles of music; it has presented Indian Classical (Carnatic and Hindustani), Jazz, Rock, Western Classical, Orchestral, Indian Folk, Ghazals, Bhajans, Bollywood and different Classical and Folk styles from different continents.
Live performances from the Lakshminarayana Global Music Festival have been released as audio CDs and DVDs and episodes of the festival have been aired on Indian television channels with viewership in over ninety countries.
Till date, the festival has been held in 52 cities across 20 countries and has received tremendous support from the press and public alike, sometimes hosting audiences of up to 200,000 people at a single event.